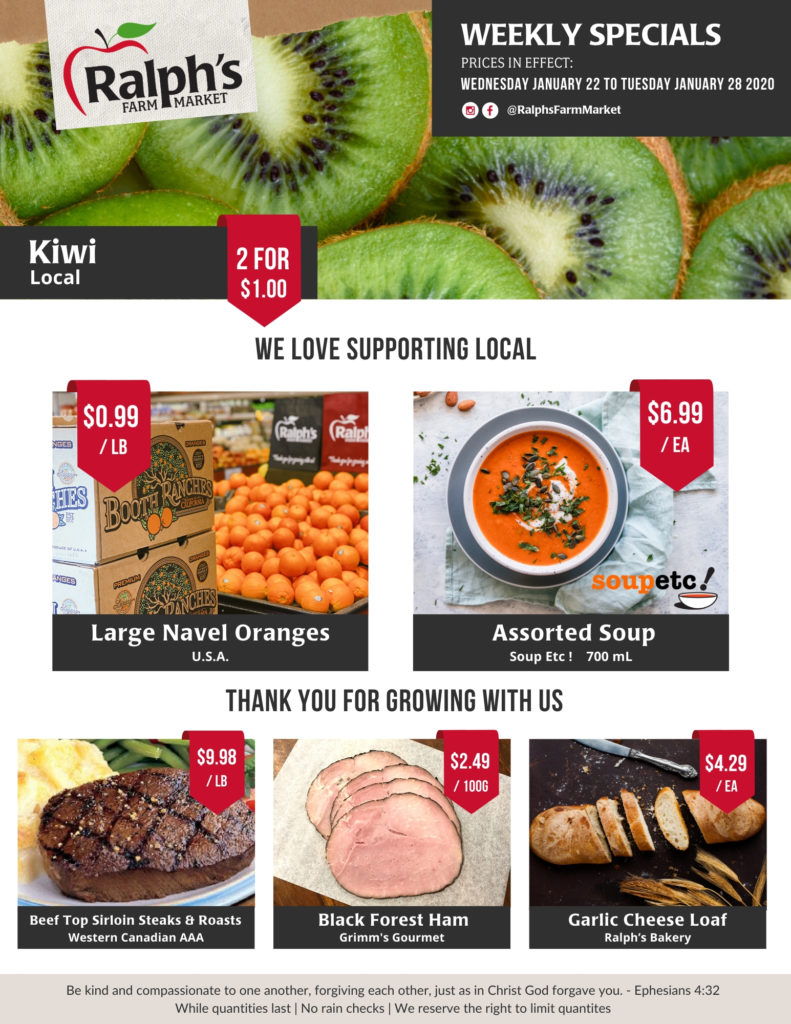 ---
Share on Facebook or email to a friend
New Vendor:
Sprucewood Handmade Cookie Company Canadian Shortbread Cookies
---
Not only are these cookies made here in Canada by hand…they also boast a very clean label.
No hydrogenated or tropical oils.
No trans fats.
No artificial flavourings or preservatives.
Only pure ingredients
All natural flavours with intense, real taste.
---
lunch time at ralph's
Yum Yum Yummmmm!
Lunch time at Ralph's Farm Market looks something like this. Warm up with our soup of the day and choose your very own custom sandwich with the team at our Bistro.
vegan borscht soup
Vegan Vendor Highlight: Kelly's Doukhobor Foods Borscht Soup! Did you know we now have smaller jars of Kelly's Borscht Soup? It's VEGAN too.
These soups are homemade, hearty and healthy…they're made locally in small batches in the Kootenay's using Kelly's family recipes!
freshly baked muffins
A snap shot of Cara getting ready for the day in our Bistro. Our muffins are baked fresh here in our Bakery, set to cool and ready for you to enjoy from our case or as a pack to take home.
We have Morning Glory Muffins, Raisin Bran Muffins, Banana Muffins and Blueberry Muffins to enjoy.
remembering the old days
Who remembers shopping our fruit stand in the old days? Pictured here is Renata and Bethany who ran our seasonal fruit stand in the mid 1990's. We provided our community with fresh Okanagan produce, from our field produce and a tiny bit of grocery too.
Today we are still proud to be your connection to fresh, local goodness!
local produce
Kiwis
Hazelnuts
Walnuts
Okanagan Braeburn Apples
Okanagan Gala⁣ Apples
Okanagan Pink Lady Apples
Okanagan Ambrosia Apples ⁣
Okanagan Macintosh Apples ⁣
Okanagan Golden Delicious Apples
Okanagan Honeycrisp Apples ⁣
Okanagan Spartan Apples ⁣
Okanagan Nicola Apples ⁣
Okanagan Fuji Apples ⁣
Okanagan Red Delicious Apples ⁣
Okanagan Granny Smith Apples ⁣
Okanagan Cameo⁣ Apples
Okanagan Romero Peppers
Okanagan Bosc, Bartlett and Anjou Pears
Bell and Mini Peppers
Broccoli
Endives
Herbs
Red Russian Garlic
Carrots, loose, bagged & bunched
Brussels Sprouts
Garlic and Alfalfa Sprouts
Pea Shoots
Green Cabbage
Red and Gold Beets
Butternut Squash
Buttercup Squash
Acorn Squash
Spaghetti Squash
Red Grape Tomatoes
Red and Yellow Potatoes
Turnips
Parsnips
Wheat Grass
Leeks