---
Share on Facebook or email to a friend
CUSTOMER RECIPE
Ralph's Tomato & Herb Sausages with Spanish Rice
---
"Chilly evenings call for warm comfort food! I love the Tomato and Herb sausages from Ralph's Farm Market so much I paired them with my Spanish Rice recipe to make this one pot wonder. This recipe is Gluten Free, Dairy Free and can be Vegan without the sausages or substituting with Ralph's Vegan Field Roast Sausages. The best part? You can use up lots of leftover veggies, and even precook or use leftover rice to speed up the process."
– Christine. B
RECIPE:
1 package of Ralph's Tomato and Herb Sausages
1 Tbsp butter (or vegan butter)
2 medium onions, chopped
1 cup diced cabbage
1/2 green pepper, chopped
1/2 red pepper, chopped
2 cloves garlic, pressed
1 – 28 oz tin Italissima unpeeled diced tomatoes
1 cup cooked brown rice
1 Tbsp. chili powder
1 tsp. oregano
Salt and pepper to taste
–
Brown sausages in a frying pan with a lid. Add the butter, onions, cabbage, peppers, garlic and saute. Add in the tomatoes and reduce until the veggies are soft. Stir in rice and spices. Remove from heat and let rest for 3 to 4 minutes.
Serve immediately & enjoy!
Thank you Christine for sharing with the Ralph's community! For some inspiration of a momma sharing her daily journey – give The Bright Mom a follow on Instagram!
Fresh Local Walnuts are here
Did you know about the many health benefits of fresh walnuts?
1. Supports Good Brain Function
2. Rich in Antioxidants
3. Super Plant Source of Omega-3s
4. Promotes a Healthy Gut
5. Supports Healthy Aging
Enjoy it many ways:
❣️Incorporate with a salad.
❣️Finely ground in dips, sauces and shakes.
❣️Chopped and used while baking bread or scones.
❣️Crushed to use as a breading on fish or chicken.
❣️Mix in with oatmeal or yogurt.
❣️Roasted and incorporated with homemade trail mix.
❣️Roasted, chopped and used on pasta or vegetables.
…and many more ways, what's your favourite way to enjoy?
Christmas Arrivals
Who's excited about all the Christmas goodies arriving at our market!?
❣️ Hans Fretag Noblesse Assorted Biscuits & Waffers
❣️ English Bay Bakery Ginger Molasses Cookies
❣️ So Delicious Dairy Free Coconut Holiday Nog
❣️ Wendel's True Foods Gluten Free Christmas Cookies
❣️ Patisserie Fruit Cakes
❣️ Christmas Sugar Cookies
❣️ Mini Tarts
❣️Okanagan Granny Smith Apples
❣️ Fresh Pomegranates
❣️ Chinese Mandarin Oranges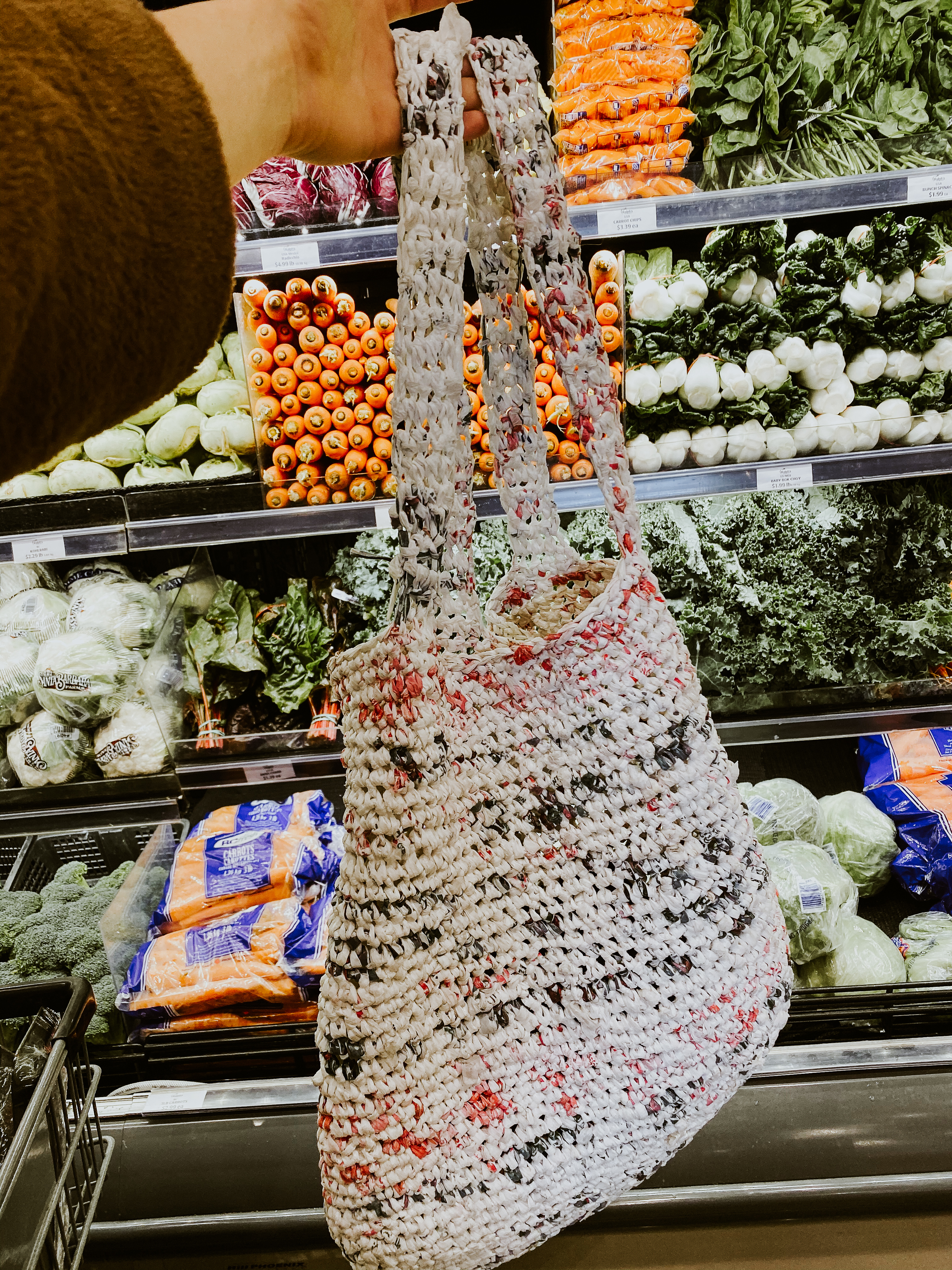 plastic put to good use
The other day we noticed this bag in the cart of a long time customer of ours.
At first glance I thought it was crocheted from yarn but when you actually feel this bag it is made from plastic bags….the plastic bags we USED TO HAVE at our old market years ago combined with some bags from other stores as well.
DID YOU KNOW: The bags at our till we have now are biodegradable so they wouldn't suit this project. They'd disintegrate soon after making it.
Amaryllis Bulbs
Diane is here to tell you all about these beautiful Amaryllis Bulbs…the easiest flower to bloom!
❣️Needs no planting or watering⁠.⁠
❣️The waxed bulb holds all the stored energy and water it needs to grow and bloom. ⁠
❣️A coiled wire embedded at the base makes it freestanding: simply place it on any flat surface, set it in a clear vase, or nestle it among other holiday decorations…and wait for shoots to emerge. ⁠
Local Produce + seasonal arrivals
Seasonal Produce:
Pomegranates
Chinese Mandarin Oranges by 5lb box
Satsuma Mandarin Oranges
Clementine Mandarin Oranges
Valencia Oranges
Local Produce:
Hazelnuts
Walnuts
Okanagan Gala⁣
Okanagan Salish ⁣
Okanagan Pink Lady ⁣
Okanagan Ambrosia ⁣
Okanagan Macintosh ⁣
Okanagan Golden Delicious ⁣
Okanagan Honeycrisp ⁣
Okanagan Spartan ⁣
Okanagan Nicola ⁣
Okanagan Fuji ⁣
Okanagan Red Delicious ⁣
Okanagan Granny Smith ⁣
Okanagan Cameo⁣
Okanagan Romero Peppers
Okanagan Bosc, Bartlett and Anjou Pears
Bell and Mini Peppers
Endives
Herbs
Red Russian Garlic
Carrots, loose bagged & bunched
Brussels Sprouts
Garlic and Alfalfa Sprouts
Pea Shoots
Green Cabbage
Red and Gold Beets
Butternut Squash
Buttercup Squash
Acorn Squash
Spaghetti Squash
Long English and Mini Cucumbers
Red Grape Tomatoes
Red and Yellow Potatoes
Turnips
Parsnips
Wheat Grass
Leeks